indiepop-list@eskimo.com proudly presents:
POPFEST '97!
(the event formerly known as tweefest)
a bicoastal event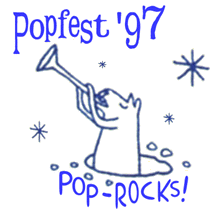 Pomona CA
The Haven Coffee House
296 West Second Street
(909) 623-0538
5:00PM each night
$5 at the door each night
All ages!
Saturday January 4th:
Skypark, The Autocollants, September, Juniper,
#Poundsign#, Half String, and Allen Clapp
Sunday January 5th:
Trumploy, FKA Oedipusarus Rex, Timonium, Further, and Nothing Painted Blue
New York NY
Fez, under Time Cafe
380 Lafayette at Great Jones (really 3rd St.)
(call (212) 533-2680 for reservations)
doors at 7PM, show at 7:30PM
$8 at the door each night
(Reservations are recommended. This is technically a restaurant and not a club, and making reservations will guarantee you entrance! (+ a table if you're there early enough!) All ages!)
Friday January 10th:
Watoo Watoo, the best wishes (formerly Shoebox Full of Love), Coloring Book, Jumprope, Heartworms, Nord Express
Saturday January 11th:
Gumption, Shoestrings, The Silly Pillows, Racecar, Push Kings, Holiday
We regret that The Witch Hazel Sound has had to
cancel
. We are sorry for any inconvenience. We have, however, been able to snag Shoestrings as a last minute replacement, and we hope that you enjoy them!
(for those coming in from out of town, i (maura) have compiled a list of
nyc hotels and hostels
that you might want to check out!)
All proceeds from ticket sales, t-shirts and other merchandise (there's a bicoastal limited edition comp. tape in the works!) will go directly to the bands, so come out and support your favorite indiepop idols! Also there will be some free small trinkets and hopefully lots of popsters hawking their wares ('zines, record label stuff, etc.). So come on out and have a good time!
xoxo,
popfest planners
CA:
Ed
Jessica
NYC:
Brian
Heidi aka Rocketgirl
Jill
Kat
Keith
Matthew
Maura
Mike
Tami
go back to the
popfest '97
page!
01nov96