21February
2021
maura @ 9:24 pm
Monday February 1st was the start of a 2-day blizzard here, and we have had snow on the ground ever since. We got maybe 2 feet in that first storm, and a few additional storms have added 4 to 6 inches each since then, maintaining a base even with the melt on warmer days. There's been enough snow for sledding in the park every day of February. And I have cross-country skied in the park nine times (9!) since the start of the month.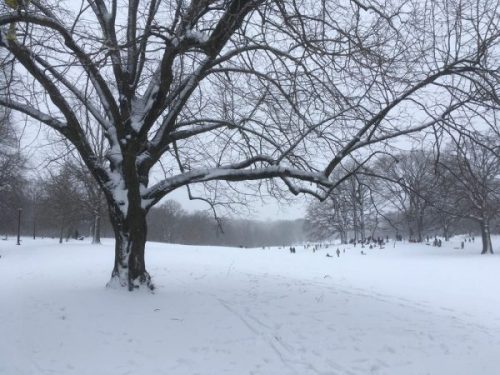 My very first day out, blizzard still happening, my boot broke: the hard plastic sole snapped, with the toe half still clipped into the ski's binding and the heel half still attached to the boot. I used velcro cable ties (which hold my skis and poles together for carrying) to macgyver the boot to the ski enough to sort of limpingly ski home that day. That evening we crazyglued and duct taped the boot back together, and I also ordered up a new pair of boots. Reader, I skied five (5!) more times on that taped up boot (though my new boots are delightful).
It's possible that I've been a bit obsessive. I have definitely been a bit obsessive. I love snow. The past few years have been relatively snow-free, to my dismay. While we usually get a chance to ski on our winter visit to family northward, last year when we visited there wasn't enough snow to ski. So it's been a while since I've had a chance to ski, and you could make the argument that I am making up for that lost time.
But it's also a pandemic, still. And we are not going to be able to go north for a visit this winter. And with climate change accelerating it's likely we won't be getting this much snow regularly in the future. So I am obsessing, and I am skiing as much as I can.
At the beginning of the month I was able to clear some meeting-free space late on a couple of weekdays and use some annual leave to ski. Sometimes I've been able to ski on the weekends, and last week I even took a slightly long lunch to get a (fast!) ski in during the middle of the day, snow still falling. It still gets dark early enough that skiing at 5pm isn't really that great. My favorite has definitely been the days I can use annual leave to cut out of work at 4pm — snow and quiet on the meadow and in the woods after a day of zooming and email is a balm.
I almost feel guilty for enjoying the snow so much, especially since I wouldn't be able to ski as often as I have were we not in still this pandemic, still living at work (not working from home), lucky to live so close to the park. But I will take this unexpected month of snowy joy, for which I am so grateful.
one comment on "time thief"
Why not add a comment of your own?