13March
2010
maura @ 9:41 pm
We're on Day 6 of the 10 Days of No Electronic Entertainment and doing pretty well here. The week was pretty easy, and as a bonus we discovered that Gus's morning pokiness has nothing to do with video games at all: he's just as much of a dawdler when he's reading a book. I will admit to a bit of panic when I first heard that it's going to torrentially rain all weekend, but today was fine. (Okay, I confess: he did have a birthday party in the middle of the day.)
All this talk of (no) video games reminds me that earlier this week I took a picture on my walk to work and haven't had a chance to post it yet. So here it is: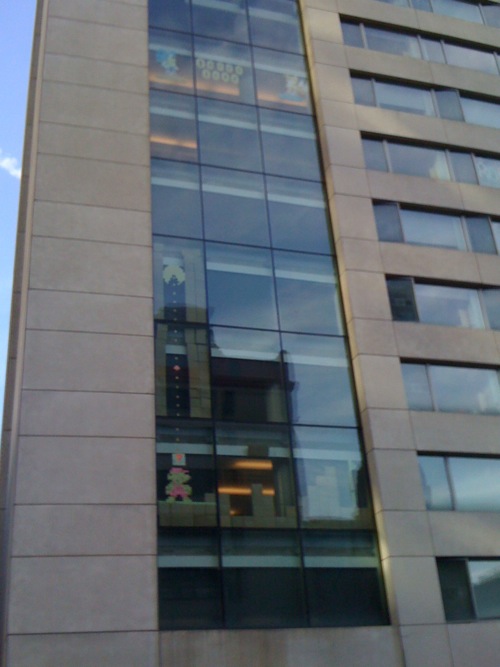 Hard to make out, I know, so I'll explain it. The college across the street from the college where I work has a dorm, and sometimes the students write stuff on the windows or use post-it notes to create pictures/words. This art using post-its is pretty damn brilliant: on the top is Sonic the Hedgehog, Tails, and some gold rings. Moving down on the left is Pac-Man with a trail of dots, then Mario. Out towards the right away from Mario are boxes to jump on with a flag on the end all the way on the right.
Not only is this a cute riff on pixel art but it's also cooperative. Since it spans many windows on multiple floors, the residents of those rooms had to get together to create it. Wonder if it was all at once or an accretion? Who knows, but I have to smile every morning when I pass by.
2 comments on "my office glows"
Why not add a comment of your own?