7August
2009
maura @ 9:48 pm
Okay, that last post was kind of a bummer. Sorry about that. We finally turned on the air conditioner which helped enormously with the sluggishness I was feeling (and now it's cooler again, phew). It's been on so little this summer that I kind of keep forgetting that we have one (duh).
Last week we took a short but lovely vacation. We drove up to my dad's in Vermont, stayed overnight, then left Gus there to frolic in the nature with my stepmother's brother's kids (who are about his age) while we hightailed it north to Montreal. Bonjour!
After driving an hour or so in the green hills it cracked us up that everything seemed to flatten out as soon as we crossed the border. Who knew so much mais sucre grew in Canada? We passed a hilarious pizza place called Arrete Papa! but went by too fast to get a picture.
We left a little later than planned so by the time we got to the hotel it was past lunch and I was starving. Montreal has a petite but tres charmant Chinatown that seemed about 50% Vietnamese restaurants, so we popped in for some pho + spring rolls, yum. Across the street was this awesome graffiti. Yay for recycling! If only my toilet paper was this happy.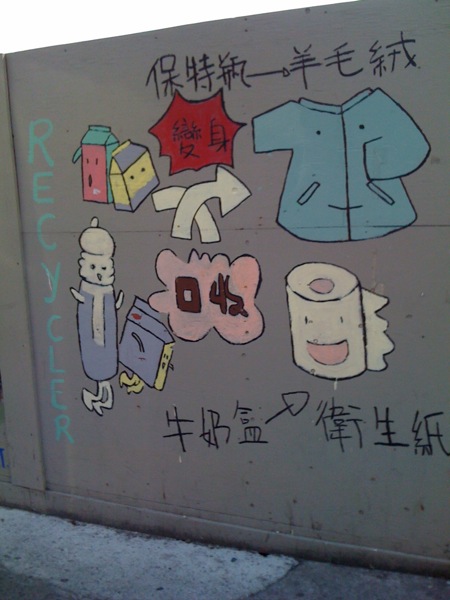 After lunch we went to the library, of course! It's a really cool huge library, 5 floors and very modern. An entire floor is devoted to music + movies (w/listening + watching stations), and another floor to the kids collection (also watching stations, kid-sized!). There was an art exhibit in the basement and loads of comfy-looking chairs and tables w/desk-type lighting + wifi everywhere. If I lived in Montreal I'd be there every weekend, seriously. Plus there was some more excellent graffiti in the alley near the back door.
We stayed in a small hotel in the historic part of the city (a birthday gift!). Among the lavender-scented soaps-n-things was a box of Everything. I know, seems small, right?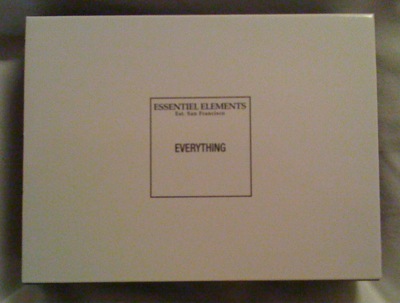 The next day we explored the city. This is the Palais de Congres (Convention Center) which looks like a kaleidoscope.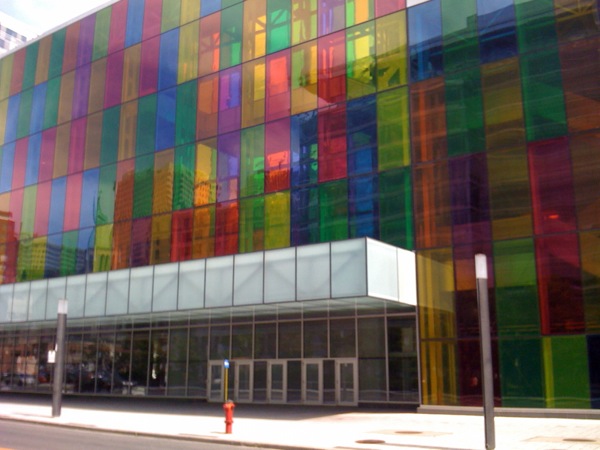 We walked through downtown which is just like every urban downtown (Starbucks? Non!). But on our way up the hill to see McGill University we passed this crazy sculpture of a crowd of people looking at something. All of the people in the front of the crowd are intently peering skyward, but as you walk towards the back of the sculpture things get kind of weird. Voici le petit homme mysterieuse! (I think I've got some gender issues in that sentence, oh well. High school was a long time ago.)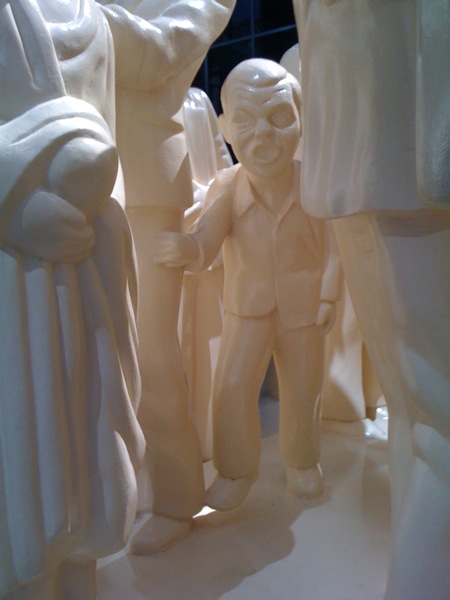 OMG there is an actual mont right in the middle of the city. After hoofing it up intense hills through McGill's campus we got to the Parc du Mont Royal. These cool stripey rocks were near the bottom of the mont, and begged me to take their photo. How could I resist?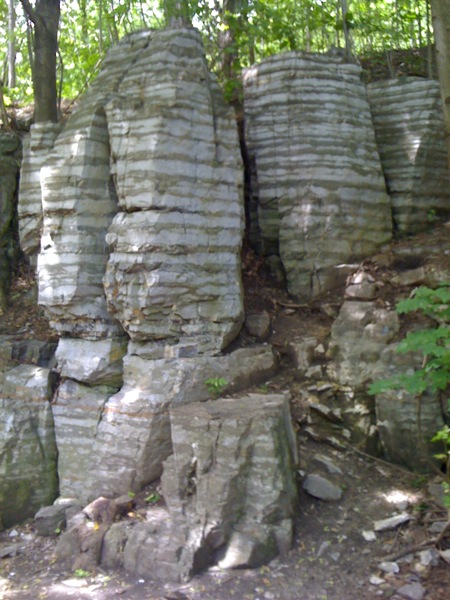 Then we climbed stairs/hiked practically straight up the mont, quite a workout. Luckily it was a gorgeous day, sunny but breezy and not too hot. The reward was this awesome view.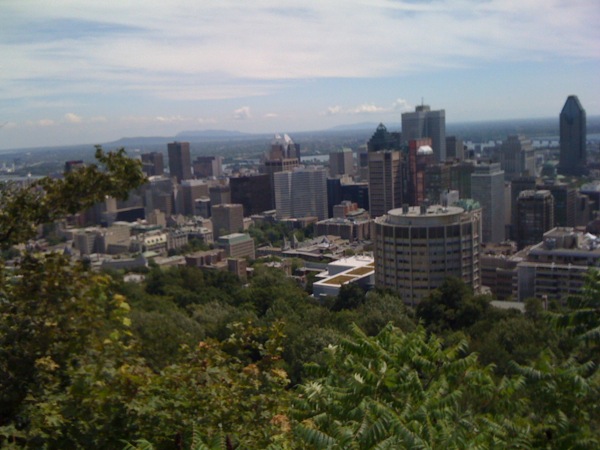 Then we had a little Mont Royal snafu. We wanted to head northeast out of the parc to the Plateau neighborhood to have lunch. But the parc is not very well-signed so in our efforts to not go back the same way we came up we kind of messed up and ended up walking forever only to emerge all the way on the other side of the parc BUT about the same distance from our destination as when we'd started, doh. All hail public transportation! We waited 15 minutes for a bus and were eternally grateful that it accepted paper money as well as coins.
I was starving (again) and exhausted by this point, and happy that we'd planned to eat at Cafe Santropol, a sort of funky crunchy crafty lunch place. There was an enormous garden and we snagged a table so far back next to the little pond that it was nearly hidden. And there was a tuba planter on the fence behind Jonathan.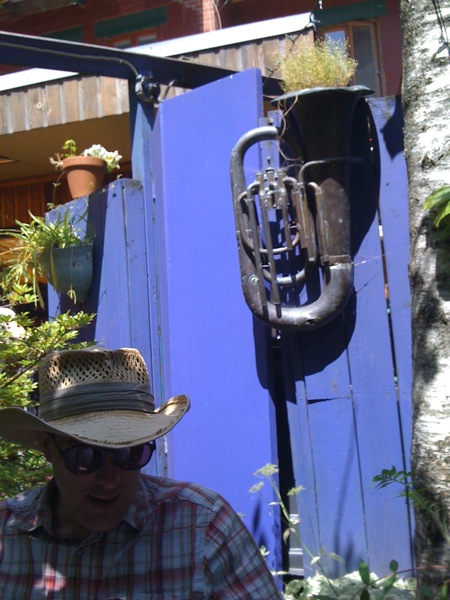 This is my amazing and delicious sandwich, the Sweet Root: carrot salad with raisins and walnuts and curry on brown bread. Plus lots of extra fruits + vegetables. I'm getting hungry just looking at this, it was so good.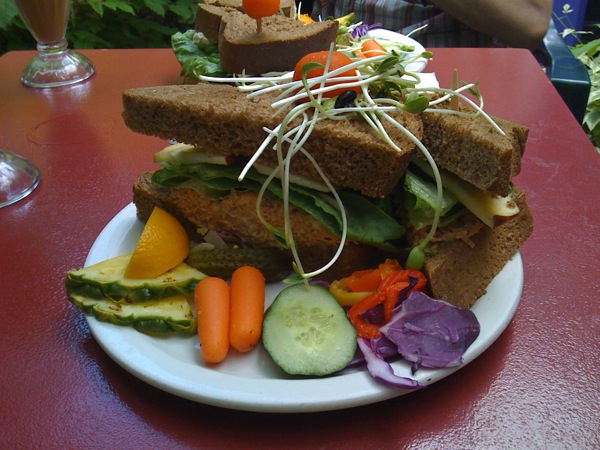 After lunch we thought about going to the archaeology museum, but I was too tired to read exhibit signs so we just went down to the river and hung out and read and watched the boats and people. There were some segway tours so of course we gawked at them, how could we not?
The next day we were headed back to the US, but not before going to the depanneur (= bodega) to buy a whole mess of chocolate bars in varieties not available on domestic soil. On our way out we stopped on two island parks in the St. Lawrence River. One was natural and one created for Expo '67 (the world's fair). Some of the old pavilions are still there and used for various purposes. This Buckminster Fuller-designed one was the US pavilion and is now a small environmental museum.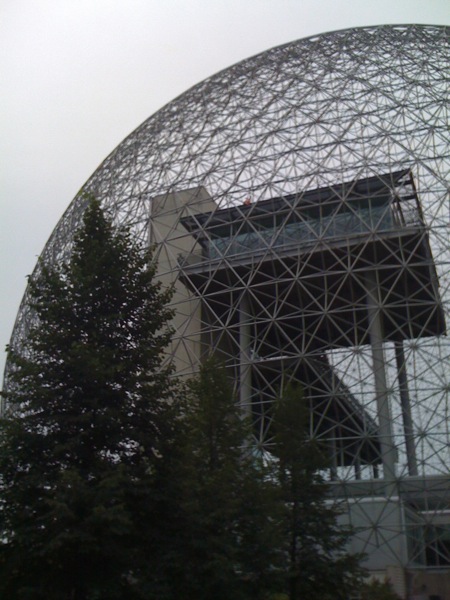 And then it was time to say Au Revoir, Canada. I'd like to go back sometime with Gus — we didn't hit any museums and it seems like there're lots of kid-friendly things to do. Not that he missed us, what with all of the canoeing and swimming in the pond and riding the alpine slide and making ice cream he did with his grandparents.
On our last night we made smores over a real campfire, though Gus preferred his toasted marshmallows solo. Because I hate marshmallows I just ate chocolate and graham crackers. Together we make a smore!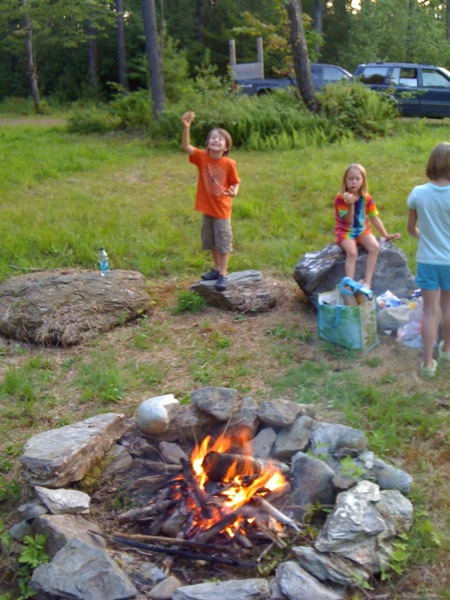 4 comments on "everything you say, everything you do"
Why not add a comment of your own?