how to butcher a ham (or maybe not...)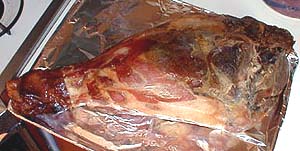 mmm, hammy! this is how the ham began its journey, in the morning before being warmed up for our dinner. note how the ham doesn't even seem to have that many bones in it...i was sure shocked when it turned out to be the whole leg!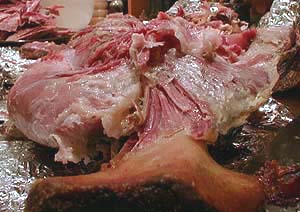 at this stage much of the meat has been cut or ripped off, exposing the inner hammy goodness. and a part of the pelvis (foreground).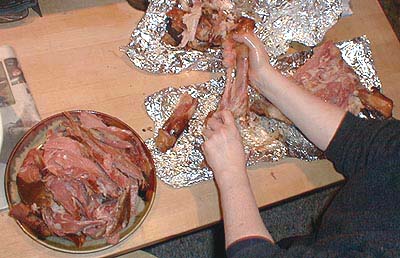 stare in horror as she un-expertly rips the flesh from the tibia and fibula of the unsuspecting ham!




after much cleaning and simmering in a bit of hydrogen peroxide, these ham bones finally look presentable. and what is this that we discover? this femur appears to have been broken and healed over (not very well, i might add). check out the cool + gross bony protuberances along the fracture. what a sad fate for a poor young pig, but at least he/she tasted good!

back to right now

15jan99