indiepop-list@eskimo.com proudly presents:
POPFEST '97!
(the event formerly known as tweefest)
a bicoastal event
so here are my pictures from the popfest saturday 11jan97 show. they're not the greatest (photoshop can't fix everything, unfortunately), and are also a little big (ca. 200K total) so they might be slow to load. feel free to take them and use them if you'd like, just please credit me. also there are more (and probably better) popfest pix at pete's
tweenet
site, so check there too!
first up on saturday night were gumption. i was really glad they got
to play because they were snowed out of last year's tweefest!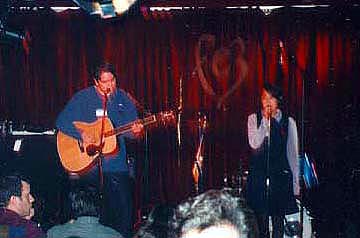 next were shoestrings, who were kind enough to fill in for the witch hazel
sound at the last minute. (this picture is really bad - sorry!)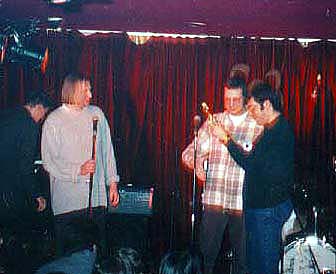 throughout the evening, brian gray (left) and pete hahndorf (middle) gave out
cool trophies to winners of the indiepop list poll 1996 award. here's
mike applestein (right) receiving the award for #1 best 'zine for 'caught in flux.'
okay, the silly pillows played next, but the picture i took of them was so
blurry i didn't even think it was worth scanning. call me camera incompetant!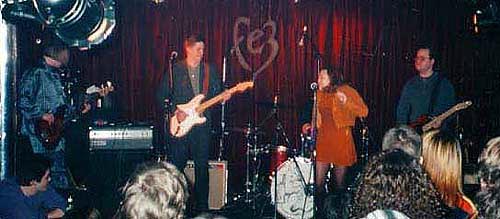 racecar went 4th, and i'm really mad that i didn't get a better picture of jina
gettin' down--she knows how to boogie! (p.s. yes brian is wearing pajamas!)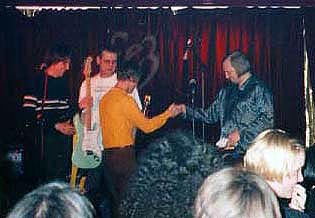 here are 50% of the push kings (carrick on the left and matt in the middle)
accepting their indiepop list poll 1996 award for #1 pop song
your new boyfriend should really know about for 'macy, macy.'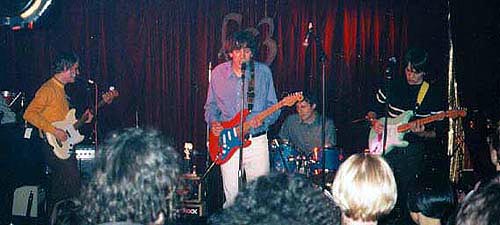 the push kings rockin' out. just want you to know that i waited for their whole
set for matt (far left) to actually face the audience, but it didn't happen!

the amazing holiday accepting their indiepop list award for #1 band you couldn't live
without *and* #1 most listened to longplay record for 'ready, steady, go!'

the holiday live experience, with dave trumfio on keyboards and tambourine.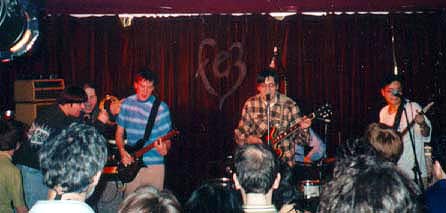 holiday played 'fifteen dollars,' which was completely unexpected!
skippy and dave t. (on the left) joined in on backing vocals.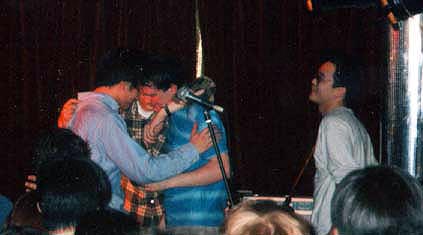 it was holiday's last show ever, so there had to be a group hug.
(this picture could be subtitled "maura finally remembers
that she has a zoom lens on her camera! duh!")