18May
2014
maura @ 10:32 pm
Art! There is suddenly lots of art right now, of varying expiration dates. The whole of it seems very springy, beginning as it has last month and this month when spring is finally here. The botanic gardens have been nutso — the long late winter made lots of flowers bloom at the same time that don't usually bloom together, a couple of weeks ago we went and there were tulips and cherry blossoms and the beginnings of lilacs. Everything seems to be happening in an intense brief burst right now with a short timespan.
Art can be tricky for us: the spawn has a limited tolerance for some but not all art, and the precise combination of factors that produce a successful visit is not always predictable. Luckily I have a few get out of jail free cards I can cash in around this time of year, Mother's Day and my birthday. I used the MD card last weekend to take us to the Brooklyn Museum to see Submerged Motherlands, a huge installation by Swoon. I've loved her work ever since the woodcut pasteup graffiti down by the Gowanus that we used to see on the way to Gus's elementary school. This piece is incredible — she's taken over a large room with a vaulted ceiling and built a huge tree covered in cloth and paper cutouts in the center. There are two handmade wooden boats around the tree, plus lots more woodcuts and a neat little hut with cardboard honeycombs which I found utterly charming (and took bad photos of). I tweeted that you could look forever and not see everything and I think it's totally true. Luckily this one is open through August so I could go back, conceivably, when I have a summer Friday off and Gus is in camp.
The other two exhibits I hope to see are much more time-sensitive. One is the Kara Walker installation A Subtlety at the old Domino sugar factory in Williamsburg. From the photos and descriptions it looks amazing, and the line was pretty long today as I was driving Gus to parkour so it's definitely generating lots of interest. This one might work for Gus — we've had some conversations about her work when we've seen it in the Brooklyn Museum, and I think we could have some good conversations after seeing this. But I don't think an hour wait is really feasible for him, so I might have to figure out how to get to see this on my own. I also love the painted ribbon-like stripes (kind of wallpaper patterny) on the plywood around the construction site, though they're so pretty as to be a bit distracting as I drive by on Sundays.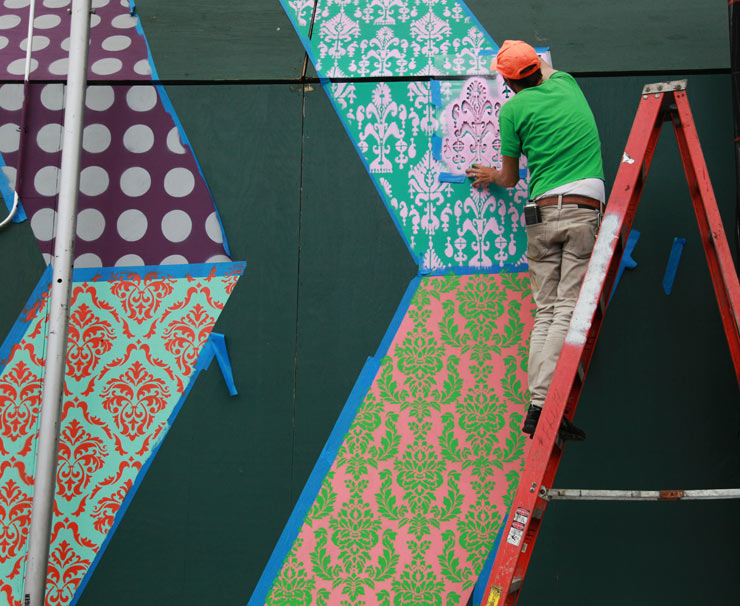 Last but absoLUTEly not least is a Lynda Barry show at a gallery in the city! OMGxinfinity!!! This is in anticipation of a new book with collections of all of her old stuff, fittingly titled Everything Part 1. I have lots (maybe all?) of her old books of comics but I will probably buy this one too because she is one of my favorites ever. That Marlys doing the funky chicken comeek was on our fridge in our 57th St. apt. for at least a year. And then when she did the 100 Views of Marlys that you could buy and she'd autograph them Jonathan bought me Top 40 Marlys and she signed it and added "Am I doin' it?" in a speech bubble because she is the greatest. All the grownups in the house want to see this one so we'll have to figure something out some weekend, maybe there's a tasty eatery nearby that we can go to? Looks like it's near the Central Park Zoo, that might do it.
Why not add a comment of your own?