12June
2011
maura @ 4:25 pm
When we first moved to NYC we lived in Manhattan. Coming straight here from Chicago we couldn't quite believe how expensive the rents were. But we wanted to be able to walk everywhere so it never even occurred to us to live in Brooklyn or somewhere else. High rents + paltry grad student stipends = roommates, so we teamed up with two friends from college to find a place. I still laugh when I think of the reasonably-sized 3BR with exposed brick that we rejected because it was a 4th floor walkup and on a street in Soho that seemed dodgy at the time and is now so posh we can't even afford to walk down it.
In retrospect we did get lucky and ended up in a 3BR duplex on Elizabeth St. between Houston and Prince with all the mod cons: laundry in the basement, a dishwasher (critical with 4 people), and air conditioning. Of course there were some small annoyances about that place, when is there ever not? During San Gennaro the neighborhood was insanely crowded and the sidewalks were gross the next day. But really there wasn't much to complain about: the location was fantastic. The old Knitting Factory was right around the corner and we could walk to almost anyplace we ever wanted to go. It was literally ages before I rode the subway north of 14th St.
We lived on the 3rd floor (I think) and at first there was a big empty lot on the south side of Houston between Mott and Elizabeth. Our apartment had a greenhouse-style window at the back of the living room where we put the TV, stereo, and video games, so we spent lots of time looking out of those windows. Just across Houston St. was a building with an enormous painted advertisement for Tuck-It-Away storage. It looked kind of like this: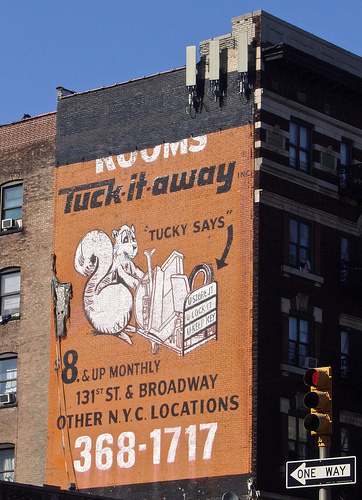 That crazy squirrel used to completely crack me up: his cart reads "u store it, u lock it, u keep key." We never knew Tuck-It-Away's location was because there wasn't an address on the ad (this isn't the actual billboard from Houston St., it's a similar ad that's apparently in Harlem). I couldn't imagine where in Manhattan there would even be space for a building devoted entirely to storage.
We lived on Elizabeth for two years and sometime in the second year construction started on a huge apartment building on that empty lot just north of us. It was a sad sad day when the building rose high enough that we could no longer sit on our sofa and see Tucky and his cart encouraging us to store our stuff. The structure with Tucky painted on it was itself next to an empty lot, and later still (I think after we'd left Elizabeth St.) yet another new building went up on that lot, and Tucky was gone.
This past academic year I've been doing fieldwork for my research project at City College up in northern Manhattan. I hadn't thought about Tucky in years, probably almost a decade. But as the photo shows there's a big Tuck-It-Away facility on Broadway and 131st St. The 1 train does a curious thing and pops aboveground at 116th St., heading back underground by 137th St. where I get off to go to City College. One day as I was getting myself together before my stop I looked out the window and there it was, in all of it's orange glory: the home of Tucky. And now I know.
Photo by Julia Manzerova
2 comments on "tucky says"
Why not add a comment of your own?