10May
2009
maura @ 5:28 pm
You may remember that time last year when I saw a manhole cover with the word TELEPORT on it. (Or maybe you didn't, which is why I linked back to it just there.) And then I couldn't find it later.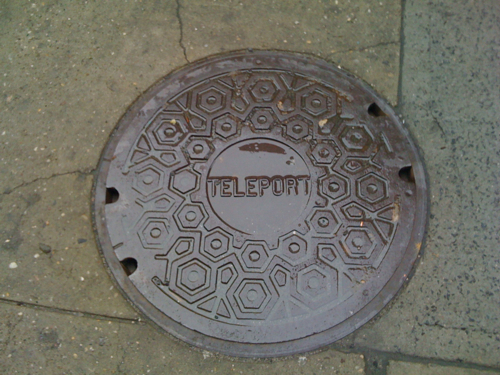 A couple of weeks ago I thought I found it again, except that I'm not exactly sure that this is the same one I saw before. I could swear that I saw the other one a few blocks away, but I haven't walked that way to work in a while.
It's funny, it never even occurred to me that this could be Art, but Jonathan suggested it might be so the last time I passed it I looked verrrrry closely. And it looks as solid and authentic as any other manhole cover. Plus, it's right near a big old Verizon building and there are other manhole covers in the vicinity that feature the same hexagonal patterns (though they all read BELL TEL or have a bell on them).
That's the boring explanation for its existence, though. I'd prefer it if you could really teleport. And, as Jonathan pointed out, there are little rocketships in between the hexagons. Interesting…
7 comments on "that's when their eyes got big"
Why not add a comment of your own?