18July
2008
maura @ 9:50 am
Ah, Summer Fridays. The days I've scheduled for publication-related activities. Last week I had a good workday, but today I am far less motivated. I'm still not 100% recovered from my surprisingly evil head cold. And I feel like I didn't get enough done this week, what with the 2 sick days. I guess I did finish two books while convalescing (one of which had been moldering on a shelf, half-read, since the spring!). But I'd like to have gotten more done at work, run some errands, cleared out some Coop work, etc.
(Yes, I know it's not healthy to regret time lost to illness. I'm working on it.)
So, today I would much rather be doing non-publication-related things. But there's not an infinite number of Summer Fridays, so instead I've planned procrastination until 10am (hence this post!) and work after that.
(So here's the real post now, that was all just explanatory blathering that you're free to ignore. Oops, too late.)
Two shiny new gadgets arrived in our house this week.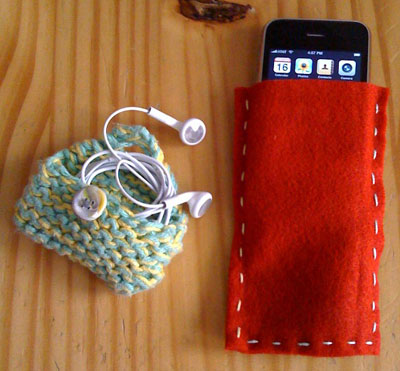 I know, I know, I've claimed at least twice that I would not be getting one. BUT, someone in the house joined the iphone developer's program and needed a testing platform. Also, our old cellphones were really bad, practically unusable, and since our contract was up we would have needed to pay for new phones AND get a more expensive contract anyway since they no longer offer our old plan. And it's not fair for just ONE person in the house to have an iphone, now, is it?
Admittedly, it still makes me a bit nervous to carry it around. I did bring my old ipod shuffle to work the other day because it seemed conspicuous to be listening to music on the iphone in the subway. But I have to admit that it's pretty sweet. I stitched up a quickie cozy for it out of some felt I had lying around, but I've plans to sew a real case sometime soon. And the headphones fit perfectly into the little knitted cozy that Anne made for me ages ago (thanks Anne!).
I haven't paid for any software for it yet, but I downloaded a free Othello, because I am a nerd. Now if someone could just make a (GOOD!) listmaking app and Tesserae, I'll be all set!
7 comments on "when you walk down the street"
Why not add a comment of your own?