4November
2009
maura @ 9:08 pm
At times like this I'm glad I have a picture on my camera I've been meaning to upload: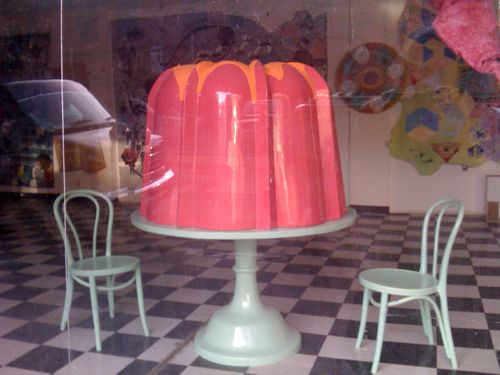 I took this picture last week — it's of the big jello mold art in the Willoughby Windows that I mentioned, one of my favorite things to walk by in the mornings on the way to work. After I wrote that post I searched all around Flickr, thinking that someone had to have taken a photo of the big jello mold on a table, but I couldn't find anything. So here it is for your delectation.
I should probably join Flickr. I don't know why I never have, just hasn't occurred to me, I guess. I don't take that many photos (though I do take more now that I have a phone w/a camera) and I'm not sure that I would ever remember to upload them. But it would be nice to add to the pool of Creative Commons-licensed images out there in the world, so maybe I'll take the plunge soon.